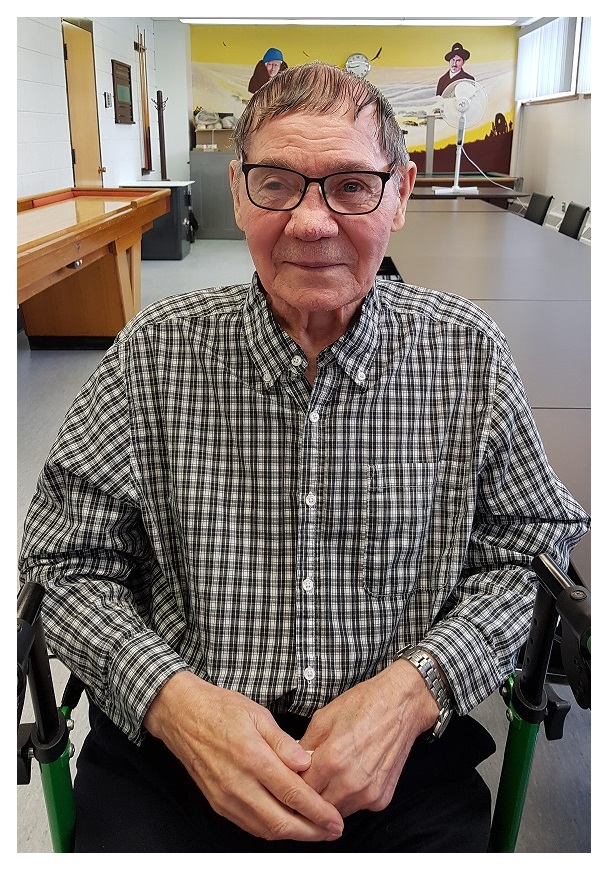 Born on a homestead farm in Manitoba, Feb 7, 1935, Peter Demcheson grew up a hard working, soft hearted man. His dad, (born in 1902), got a ¼ of land in Fork River, 30 miles West of Dauphin, as one of 460 farmers that received homesteads. When he was 14 he told his dad he wasn't going to school because "…they didn't teach anything about Canada; where we lived, how we came to live there and so on."
As Peter spoke about the life he has lived, I was moved by his candor, his perspective and his razor sharp memory.
"After harvest I said to dad, 'ok, I'm going to go to work.' So on Nov 5th 1949 I got my first job with Abitibi pulp and paper." Peter had experience chopping trees with an axe but had to adapt to a sweet saw. He described his 14 year old self having trouble guiding the falling spruce trees. Logging was hard and dangerous work for anyone, especially a teenage boy, but Peter stood out as a hard worker whose skills were improving.
"There was a contest in Slave Lake of who could fell a tree onto the single axe handle wedged in a stump. If your tree landed on the axe, you would win." Peter's eyes sparkled at the recollection. "There were at least 20 competitors, I was the third contestant and I won."
Soon Peter heard about jobs to be had in Ontario. "[In] 1951 I went to Port Arthur," (Port Arthur merged with Fort William to become Thunder Bay in 1970). "[and took a] labour job: $1.50 an hour and room was included but board was .50 a meal, so I made some money." Soon Peter was singled out again. "Workers from the farm are hard workers and don't complain" he laughed.
Peter was offered a job as a high rigger for Ontario Hydro. "We were building a power dam with three huge turbines in Red Lake, dangling 260' from a crane, taking forms off the cement walls." Peter stayed on garnering a solid reputation and seniority but then did what he described as "… the stupidest thing I ever did. I quit Ontario Hydro."
Moving to Alberta in 1953, Peter worked for $0.85 an hour in the bush, citing "… the only job I could do where I could make some money." He arrived "…the last week in October, and by the 5th of November 1953 I got a job with Harvey Kennedy, sawing [railway] ties for contract under CN. Peter soon impressed Harvey with his innovation that allowed him to do the work of two men.
"When I came to Alberta, I missed my mom and dad, but after years away, I kind of got away from them," Peter reminisces sadly, "… you see, I didn't go to see them. I went a few times earlier but afterward, I didn't."
In 1966 Peter's Dad passed away, prompting him to return to farming, buying one in Smith. He then brought his mom to live with him there, to help with cooking and making decision about the farm." His mom lived to 97, passing in 2010. "She never smoked, she never drank, but Dad did both (laughs). She was so happy to be with me on the farm."
"Sometimes I think, my life is over, I had a pretty good life but kind of sad you know. I wouldn't have minded getting married and, as hard as I tried to get married… see, that's what got me to drinking – the loneliness. I wanted to share my life with someone. Even when I got the farm, I could get a date anytime but nothing serious. I would [broach the subject of marriage] and, when I mentioned a farm…" Peter protests "- that's a good living! I guess it wasn't meant to be, and yet…"
Looking back at his life experience, Peter Demcheson wanted to share some pearls. "I would say live and love. Be good to others, do unto others as they do unto you, but if they are bad eggs…" Peter continues "Try and look out for your life, don't do stupid things. Don't think about spending your money on lottery tickets, hoping and praying – forget about that.
What a person does in life [is what matters]. I had chickens, I milked a cow, butchered beef every fall and the deepfreeze would be brimming full, and last until next fall. It's a good feeling of the harvest in the fall. I've always had a happy smile because the good Lord gave you everything you need, only you have to look after it. Act responsibility, don't go give it away."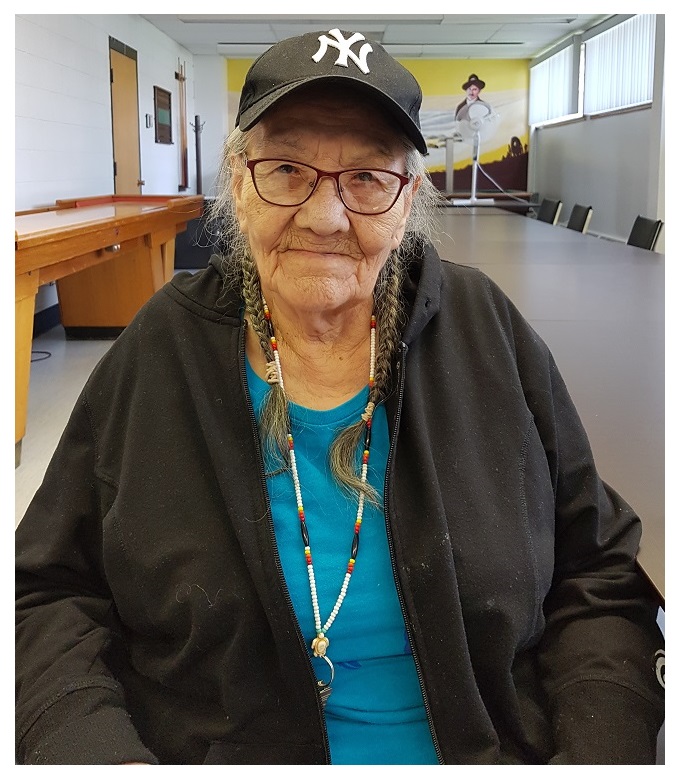 Born in Fort a La Corne Saskatchewan, (now the James Smith Reserve), Mary Anne Sawan, has lived a life rich in many different and challenging experiences. Speaking candidly about some of them, Mary was fearless in looking back at some key moments of her life.
The second oldest in a family of 14, Mary explained the big family was because "…Mom was in and out of a sanatorium and every time she came home she would have a baby."
Mary didn't speak much about her time at school except to explain why she never smoked as an adult. "My cousin took me down to the end of the playground. She was with her boyfriend and they got me to be a lookout. They were smoking and they got me to smoke. I was about nine years old and I was coughing all the time and even threw up. I didn't like it. I had a hard time at that Anglican boarding school."
After schooling and helping out at home, Mary Anne soon was married in The Pas, Manitoba to Lawrence Magillivry. "I met him when he was working on the railway track as part of an Extra Gang. My cousin and I and another girl were there in the café talking but there were lots of those [rail worker] guys there."
Soon a distant courtship developed but only because Lawrence persisted. "Lawrence use to write to me and I ignored the letters," she explains. "We got married a year after we met. I could have had five children but I had two [that survived]: a boy and a girl. My son Gilbert Magillivry was 9.5 lbs at birth." Her doctor "thought it would be twins, but it wasn't" she laughs.
"After my son was born, I was five months pregnant [with another baby] and walked five miles in the winter time [to get in to town] with four other ladies, but it was so cold. When I got to town they rushed me to the hospital and I lost the baby." Her mom and dad came down from Saskatchewan to come and see her but "My husband [couldn't because he] was working in the saw mill at that time."
Mary Anne's family expanded with the arrival of a new daughter. "I then had Shirley Anne in Milford, Saskatchewan and my baby was 7 lbs 9 oz. She was easy - just arrived like that! The doctor scolded me saying I didn't give him time to put his gloves on (laughs). She was blonde with blue eyes. She is just like a little mother now and takes me to the doctor and other appointments."
Soon Mary Anne and her family moved to Edmonton. "I was working at the University Hospital as a nursing assistant, just passing through temporarily, on my way to Vancouver and I got sick." Mary Anne had been working nights as an RN but got a bleeding ulcer and was in the hospital for two weeks. "They gave me four pints of blood and I decided to stay [in Edmonton].
I also worked in a hotel too but I didn't like it. I didn't like being around alcohol or smoking. All these years I never smoked, just my early days when I was in boarding school.
My son Gil is in Ontario and is a lawyer. He wanted to be an RCMP but his first wife discouraged it. They had twins when they were both very young. One night my son's wife Shirley threw her four year old boy out of the house! My son ran after my grandson and he said 'I'm taking my son and I'm leaving you' and they got a divorce. My son was [a single parent], working and going to school and graduated and the next thing you know he remarried a red head and has three kids (laughs).
The most important message I could tell you is; I see all the things happening to young people and it's hard. It's hard to see them go through that. I try my best to try and talk to kids but I have a hard time. Quit smoking and quit doing all these things that are bad habits. Take care of yourself.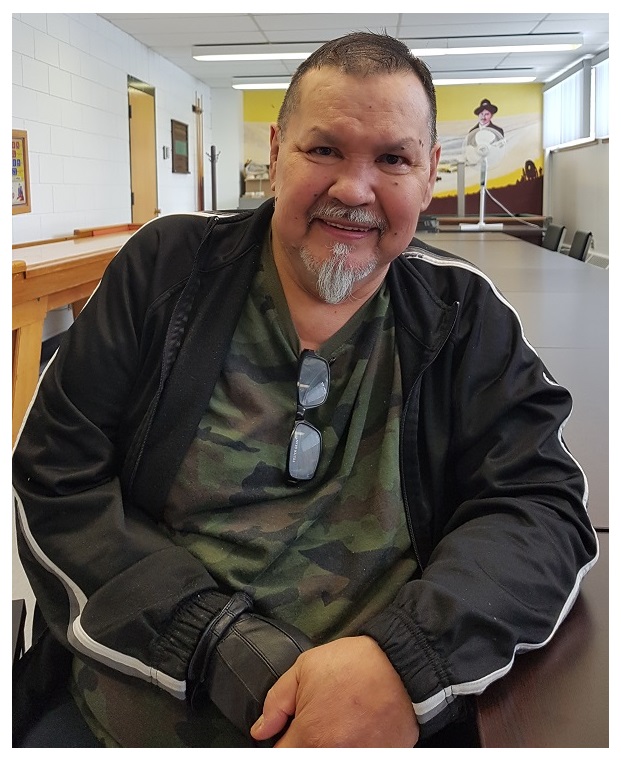 Leonard's easy smile is infectious, winning you over within the first few minutes of meeting him. His smile says a lot about his philosophy on life, the choices he's made and the challenges he's overcome. Challenges that almost had him lose the battle, were it not for his wife's singing, one war-weary day.
Surviving abuses from the residential school, the injustice weighed on Leonard to the point where he sued them for damages. The difficulty was Leonard has COPD, (Chronic Obstructive Pulmonary Disease), which interferes with how much oxygen reaches his brain. This in turn, interferes with his memory. "When I first talked to the lawyers and the government rep in court," explains Leonard, "I told them the story and the second time, the story changed a little bit." As a result, the court dropped the case.
This only added to his pool of anger, growing since he was a child, having "been thrown from foster home to foster home." Then in 1983, while working in a pulp mill, Leonard, who had established himself as an artist, lost his right arm.
"There I was, with only a grade 8 education, [a right-handed artist] with no right hand, sitting on the floor of my living-room because I had pawned off the couch, the tv, everything." Leonard shared how he had become addicted to pain killers as a result of arm. "Then all I could hear was my wife singing a tune in the kitchen while she was cooking. I thought, 'what the hell is she so happy about?'"
Leonard decided then and there "I'm gonna quit feeling sorry for myself and do something." So he got up from the floor, walked into the kitchen and told his wife "I'm going to go back to school!" and she said "Yeah, sure."
"I heard that doubt in her voice," Leonard explains, "because I had lied to her so many times before."
The next morning Leonard phoned Concordia College in Edmonton. "While I was (calling) I was crossing my fingers," laughs Leonard, "I said 'I'm Leonard, I'm Métis and I would like to take my grade 12 equivalency." They asked Leonard to come in the next day.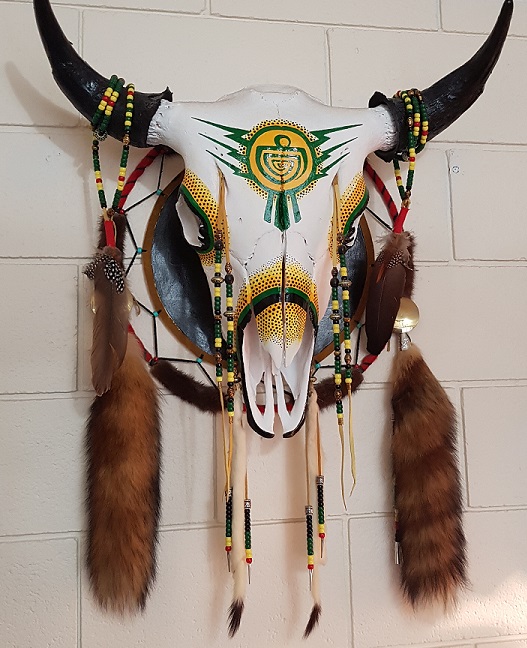 Leonard went on to describe how he considered that he would pretend he didn't know some things and actively fail. "Then I thought; no way! I've done this all my life with people telling me I was a loser. I'm gonna do it and I got in."
The day came when Leonard had his first day at Concordia, filled with nervous apprehension but that soon shifted when he walked into class and it was filled with Aboriginal people. "I felt really good and (really comfortable)."
That first nervous day grew into a Bachelor of Arts degree and then to a Social Work degree. Leonard immediately got a job at Poundmaker Lodge as a counselor and soon made supervisor. "I was making good money and was able to buy a house just a few blocks from Nihgi Lodge.
"What I would like to pass on to you is this; With my early circumstances, and my disability, I overcame all that and ended up doing what my dream was, of becoming a counsellor. There's no such thing as 'I can't do it'. Just do it, because if I can do it, you can do it!"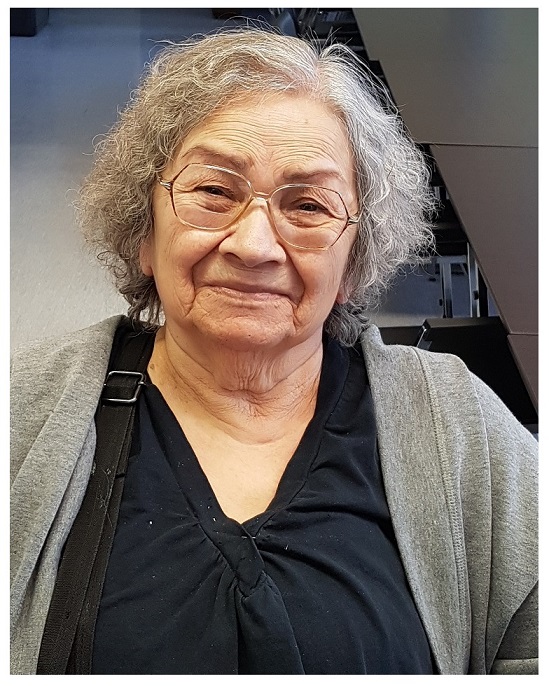 Mable Skaaning was born in Fairholme, Saskatchewan in her grandfather Lemon's homestead. Life was often hard for young families on northern homesteads. "Most of mom's kids were born out in the bush." explains Mable, "There was 12 of us but four died before they lived. One was 13 that took care of me but she got pneumonia and passed on."
"After my dad passed on, mom got married to a German fellow in Laporte (SK) and he fed us really good," laughs Mable, "food is love. When my mom remarried, the German kids use to call us Indians and we would laugh, 'Hey we're Métis!'"
When asked about her working life, if there was one career she focussed on, Mable shared she found all kinds of work she enjoyed. "I did everything, I worked in a hospital in Kindersley in North Battleford. I worked and lived in a priest seminary and washed and ironed clothes." The 120 year old St Vital Seminary in Battleford was a seminary renown for its serenity. "They couldn't talk to any body, so it was quiet. A few with status chatted a bit but for the most part you just did your work."
After moving from Saskatchewan to Alberta, Mable waitressed in Edmonton and also worked in the general hospital in Calgary. "I moved with my husband, I don't know how many years ago and [I originally] didn't like Edmonton, I liked Calgary a lot more but I went there recently and now I don't like Calgary anymore, I like Edmonton. (laughs)"
"I lived in Holden, (SE of Sherwood Park) in a trailer with two dogs. I could have bought a new trailer and stayed there but…" Mable's eyes flash a bit of regret which quickly dissipates.
"One important message I'd like to share: I'm a good person. Try and live your life in a good way. Mom and dad - love them no matter what! My mom and dad were very poor. Some days you (could) barely eat, but you still love your mom and dad!"